The Nikita by Trigger Happy Toy
100% silicone dildos that combine the familiar concept of a pistol grip with soft curves and pulsating rhythms.
Powerful and Sexy
Spark the imagination and bring both excitement and humor to the bedroom. We create top quality sex toys that are comfortable and easy to use — making you feel powerful and sexy.
About the Nikita
Trigger Happy Toy was born from a sculpture series done in 2008. The Trigger Happy Series is a playful and politically distinct collection of works that subverts weaponry into pleasure products.
During the exploration of the series, audiences responded with a desire to see the pieces as "functional" objects. After considering the benefits, I became inspired by the potential to see these creations serve in fun and innovative ways.
Trigger Happy Toy will be releasing The Nikita as an adult novelty this Valentines Day. The Nikita is is a 100% silicone dildo and vibrating sleeve that combines the familiar concept of a pistol grip with soft curves and pulsating rhythms.
Made of 100% medical grade silicone, which is the gold standard of sex toy materials. It's non-porous, easily washable, and hypoallergenic. This makes it body safe and free of nasty toxins such as phthalates.
The Gold Standard
The Nikita's unique advantage is in the handle and the trigger itself. The handle provides added reach and stimulation for the solo user, while providing better control and stability for couples. As an additional element the tickler is positioned to provide stimulation to the clitoral or prostate areas.
The Nikita is also being developed so it can be used as a harness free strap-on by inserting the base of the grip into the vagina.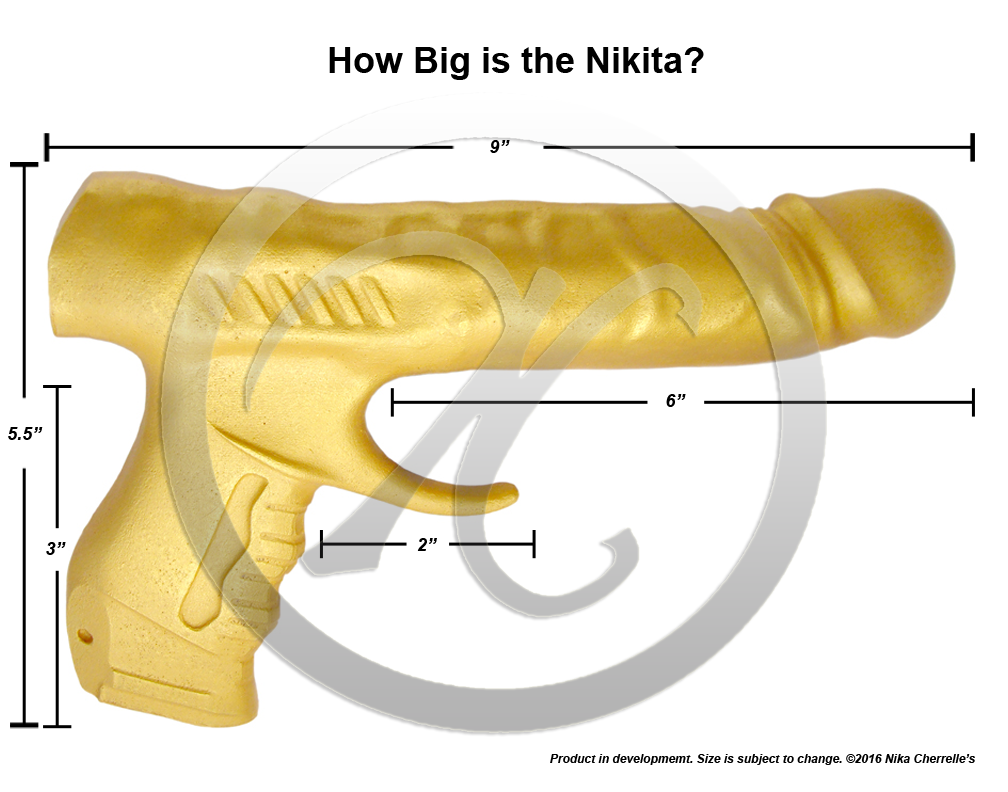 Why Silicone?
Silicone is the ideal material for adult toys. The Nikita is 100% Platinum cure which is the safest grade on the market. When comparing silicone to other materials: plastic cracks, rubber and urethanes disintegrate, and jelly and PVC are toxic.
Benefits of The Nikita
Warms quickly to body temperature.
Cleans up easily (see product care).
Its firm yet flexible texture ensures a smooth ride.
Transmits vibrations beautifully.
Can be used with or without a harness.
Is safe, non-porous and phthalate free.
Handle provides ease of use.